Image

Yebes Observatory celebrates the International Day of Women and Girls in Science
by Cristina García Miró (Yebes Observatory - Observatorio Astronómico Nacional, Spain)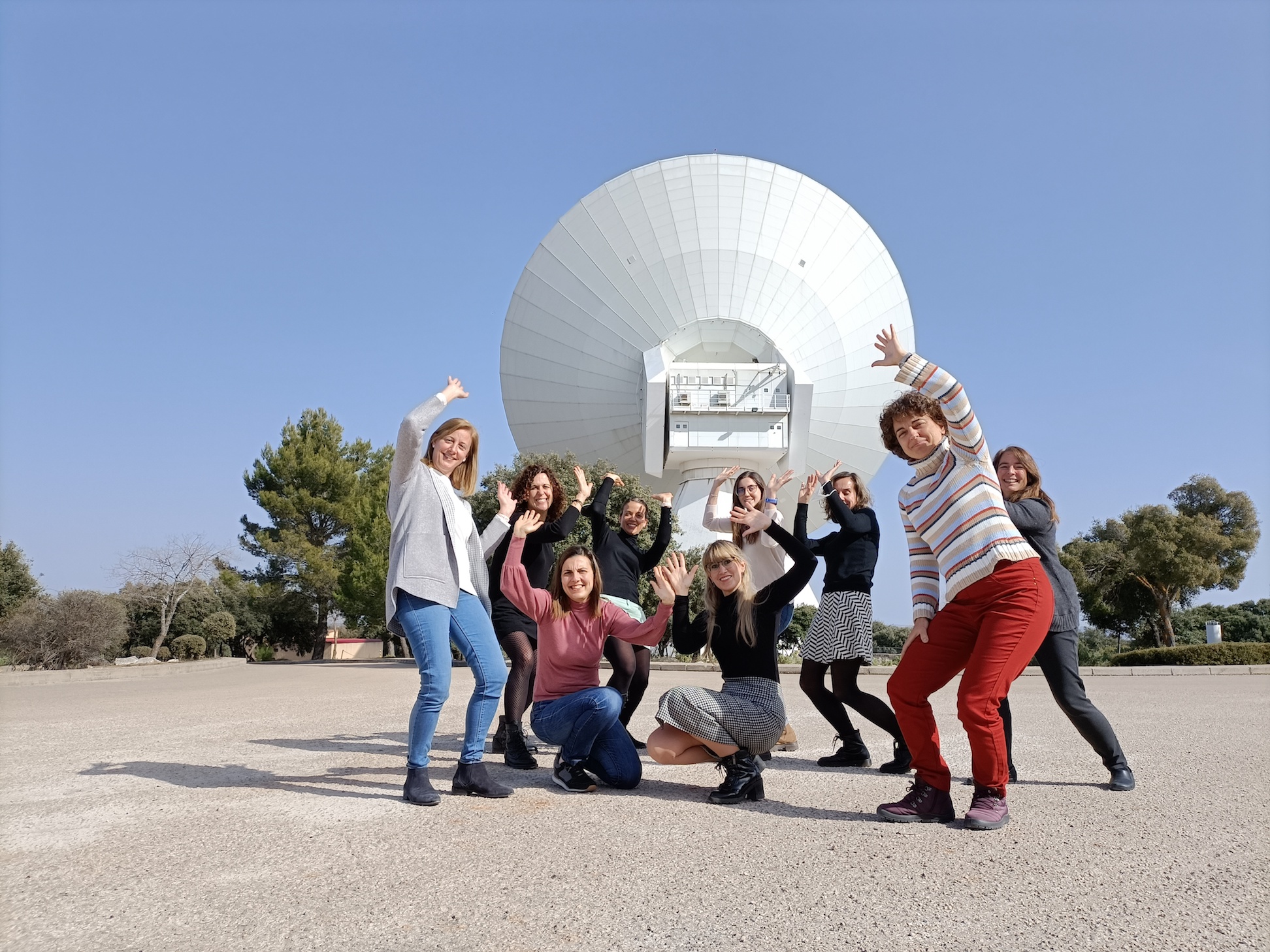 The International Day of Women and Girls in Science was celebrated on February 11th, and Yebes Observatory (Spain) wanted to commemorate this event in a very special way. Some of the talented women working in the observatory shared their views and feelings about working in science, in an extensive interview published in the provincial newspaper El Decano de Guadalajara. According to Laura Barbas, a telecommunications engineer who is the head of the Control Systems Service at the Yebes Observatory, women represent 24% of the staff of this observatory, one of the most important of the Spanish National Geographic Institute, under the Ministry of Transport, Mobility and Urban Agenda. Laura emphasises the importance of promoting family reconciliation policies, "since this allows everyone, but specifically women, to develop their professional careers, whether in the field of research and science or in any other field".
The day of the international observance, the observatory also welcomed a group of school children from the Jocelyn Bell Primary School in the Yebes village. These children had the opportunity to learn first-hand about the work done by women at the observatory. These same students had previously participated in a contest in their school to name a project they were carrying out after a famous scientist. Only one of them proposed the name of a famous woman scientist.
On arrival to the visits' pavilion, the astronomer Cristina García Miró guided them to discover the "Colours of light", colours that our eyes cannot detect, from radio frequencies to gamma rays, and how the information provided by all the wavelengths is fundamental for understanding the different phenomena occurring in the Cosmos. Cristina took advantage of the school's connection with the famous astronomer Jocelyn Bell to tell them that, apart from having discovered pulsars, as a young scientist she suffered from "imposter syndrome", which she overcame by working hard and believing in herself. This astronomer believes that women have the same opportunities for accessing scientific careers as men, but "during the long and arduous process of becoming a professional researcher, the dropout rate is higher for women".
Once inside the observatory, they visited the amplifier laboratory with engineers Inmaculada Malo and Mamen Díez, who showed them the instrumentation needed to develop these devices and observed the different details of the amplifiers through the microscope. Inmaculada Malo holds a PhD in Telecommunications and is a senior radio frequency design engineer. As she explains, her work consists of designing, manufacturing, measuring and testing the characteristics and operation of components that detect electromagnetic waves coming from the universe. It is what is called the first stage or cold stage of the heterodyne receivers used in radio telescopes around the world. Inmaculada believes that today's girls need female role models, so the role of women in research should be highlighted: "Nowadays, young girls are looking for role models. You only have to look at the number of influencers that exist". Mamen Díez, a Telecommunications engineer who also works in the amplifiers and cryogenic devices group, states that women have been made invisible for centuries in scientific careers and that "even men, in some cases, have taken the merits that belonged to them". She thinks that today, "things are changing, but there are still, however, glass ceilings" and she believes that motherhood can be a handicap when it comes to progress and "can even slow down our careers".
The engineer María Patino was in charge of presenting the receivers laboratory where she designs, builds and tests radio astronomy receivers and associated instrumentation. Among other things, the students were able to observe and manipulate different electronic boards manufactured at the observatory, but not before learning about the effects that electrostatic discharges from our own hands can produce in the different electronic components. María assures that there are people that "don't know that technology 'made in Spain' is exported internationally".  She also adds that "it is difficult to value research and science when you don't see an immediate benefit, but COVID has made them much more visible".
A colleague from María is Marta Bautista, who studied a bachelor's and master's degree in Telecommunications Engineering at the University of Alcalá de Henares, and currently works as a radio frequency engineer, monitoring radio frequency interference (RFI) and building and testing frequency converters. This engineer perceives that women are gaining more and more ground in all fields, in the media, in the educational portfolio, on the Internet, etc. and values initiatives such as this International Day of Women and Girls in Science: "There are publishers that have books about famous women throughout history aimed at a young audience", she adds. However, she believes that "there are still many people from previous generations who find it difficult to make women visible in certain professions".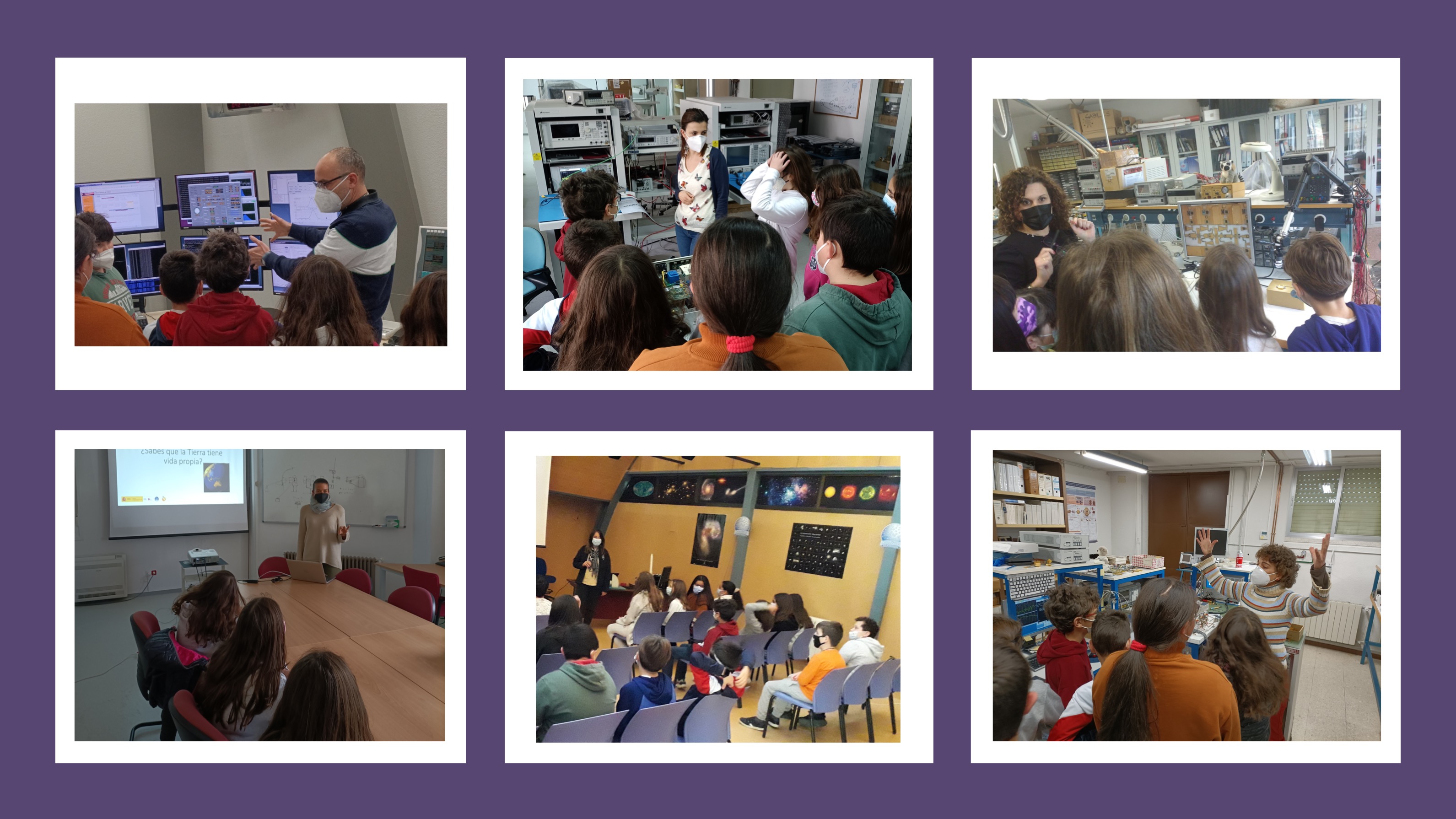 The visit to the 40-metre diameter radio telescope was long awaited. At the control room, the operator that day, Daniel Sastre, explained to them what was being done at that moment: a Very Long Baseline Interferometric (VLBI) observation in which radio telescopes from all over the world observe in a coordinated way. This form of observation is equivalent to using an antenna the size of the Earth, one of the largest instruments ever used, which provides more zoom in the images than any other technique in astronomy.
A very important aspect of the Yebes Observatory focuses on the study of the Earth. The mathematician Beatriz Vaquero works in the field of Space Geodesy. At the moment, she explains, "we are developing a project that consists of the construction of a satellite tracking and observation station through a laser telemetry system (SLR, satellite laser ranging)". Beatriz is the project manager of this new facility. Among her references is Hypatia of Alexandria, "for being one of the first known women scientists", although she admits that no example of a woman has guided her steps. She encourages new generations to be genuine, "because there are no men's careers or women's careers, there are just careers".
To conclude the visit, geographer engineer Elena Martínez told the students that the Earth has a "life of its own", which manifests in different types of movements, studied using space geodetic techniques. It was clear to Elena that she was going to follow the path of science since she was a child. In fact, her female scientific reference was her mother, because "when she studied Topography, only five women in Madrid were doing it". In addition, she indicates that she was motivated to choose this specialty by "the fact of being able to contribute with my work to the study of climate change and its effects on the Earth's surface".
The celebration of the International Day of Women and Girls in Science was a memorable day in Yebes Observatory. There is no doubt that these girls and boys will remember it all their lives, an experience from which we hope scientific vocations will emerge. We also trust that next time they are asked about a famous scientist, they will remember that there are also women scientists, and even famous ones.