Image

15th European VLBI Network Symposium Set for Ireland in July!
by Denise Gabuzda (University College Cork, Ireland)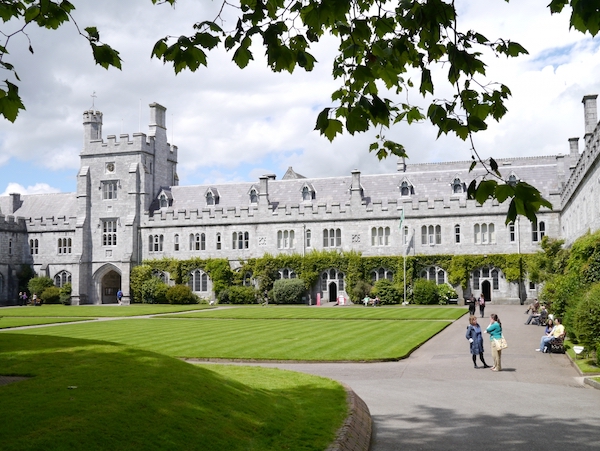 The 15th EVN Symposium, "Providing the Sharpest View of the Universe," was originally scheduled to take place at University College Cork, Ireland, in July 2020, but had to be cancelled due to the COVID-19 pandemic. It was originally hoped to reschedule it for July 2021, but even with vaccines becoming available, this wasn't possible, and an "EVN Mini-Symposium" was held online instead. This online symposium was successful and it was great to be able to include participants from locations all around the globe. However, many of us still longed to be able to gather in person.
Now the 15th EVN Symposium is again scheduled to take place in person in Cork, Ireland during 11-15 July 2022. However, we don't want to lose the participation of colleagues whose circumstances would prevent them from coming in person, and there will therefore also be the option of online participation for those who are not able to come to Cork in person. It will be possible to make presentations both in person and online.
The EVN Symposium normally happens every two years, and provides a forum for discussion of the latest VLBI scientific results and technical and technological developments both within the EVN member countries and farther afield. A wide array of topics and results will be discussed, ranging from solar system applications of VLBI to studies of the most distant galaxies in the Universe. Another important part of the symposium is the EVN Users' Meeting, which provides information about current and future VLBI capabilities and resources that are available for EVN users, as well as providing the opportunity for users to ask questions and give feedback about their experiences. There will be an afternoon off on the Wednesday to give time for those present in person to explore the beautiful and historic area in and around Cork City.
The EVN Symposium 2022 website is live at https://www.ucc.ie/en/evn2022/, where you can find a registration link, as well as information about how to submit talk and poster abstracts, book accommodation, etc. It is planned to publish the proceedings of the Symposium online in Proceedings of Science.
The deadline for early registration is 31 May 2022. A limited number of waivers will be given for the online registration fee for early career scientists. Application forms can be obtained by emailing evnsymp2022@ucc.ie, and that's also the email to use more generally to contact the symposium organisers.
We hope to see many of you in Cork in July, and more again on our Zoom screens!