Image

The EVN Archive officially part of the Virtual Observatory
by Mark Kettenis (JIVE, the Netherlands)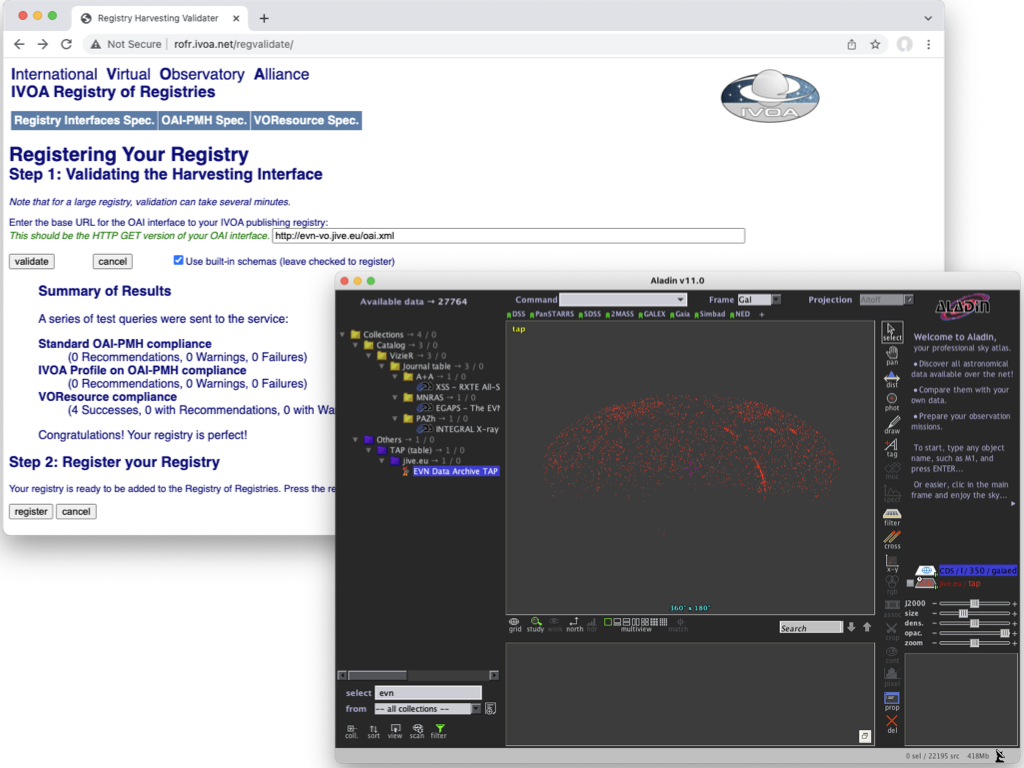 Thanks to the EC funded ESCAPE project, JIVE is now running its own Virtual Observatory (VO) service that provides access to all the public data in the European VLBI Network (EVN) archive hosted by JIVE.
This VO service provides a searchable catalogue of all EVN observations that were correlated at JIVE (and a few correlated at the other EVN correlator at MPIfR in Bonn, Germany). The catalogue is made available through the International Virtual Observatory Alliance's (IVOA) standard Table Access Protocol (TAP) and provides search results describing the observations following the standardised IVOA ObsCore schema. The service can be accessed at http://evn-vo.jive.eu/tap but since we now also publish the service to the VO registry it can be easily found in applications such as Aladin and TOPCAT, or the PyVO Python module.
The image shows the registration of our VO service and an Aladin skymap of all the targets observed by the EVN since JIVE began archiving EVN data in September 2000 for which data is publicly available. Guess where the galactic plane is in this projection!
The service is implemented using the GAVO DaCHS software, which does provide a (somewhat rudimentary) web interface to query the catalogue (using ADQL, the Astronomical Data Query Language) and look at the results. But the real power of the new VO services lies in using the service in more advanced tools or your own Python scripts. For example, the TOPCAT tool makes it very easy to cross-match EVN observations with your favourite source catalogue.
The ObsCore schema that is used for the catalogue is fairly generic (and somewhat geared towards optical astronomy). This information includes things like exposure time, time range, wavelength range, target position and an estimate of the region of the sky that you can expect to image from the data. In the future, we hope to extend the VO service with additional parameters that are relevant for observations with radio interferometric instruments. For example, adding parameters that characterise the UV coverage of the observation will help you judge whether imaging a particular target in the observation is feasible. We also plan to add diagnostic plots and preview images to the catalogue.