Image

It is time to join the Science Forum of the Global VLBI Alliance (GVAS), a Working Group in IAU Commission B4!
by Francisco Colomer (JIVE, the Netherlands)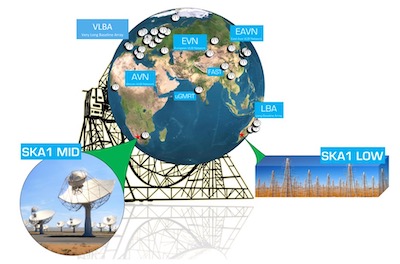 The Global VLBI Alliance (GVA) has established a Science Forum (GVAS) in order to promote VLBI widely. The GVAS was presented at the recent IAU B4 business meeting on 8 August 2022. The session presented the current and future plans for the main cm-VLBI networks (EVN, EAVN, VLBA, LBA), as well as the VLBI connection with SKA (SKA-VLBI). In the short discussion that followed, some topics are identified as core actions for the GVAS:
Identify science cases for GVA, possible preparation of a white paper,
Promote and advocate for VLBI in events,
Cross-disciplinary collaborations,
Assist infrastructure roadmap exercises at national and international level,
Assist in communication efforts about VLBI.
Since the GVAS will be organizing the different subcommittees soon, all astronomers are invited to join and participate! Contact us and get involved in the discussions!
 
The recording of the GVA session at IAU GA can be found here.
 
The contribution by Tiziana Venturi on the EVN Science Vision 2020-2030 can be found here.
More information on the GVA can be found at www.gvlbi.org.
SAVE THE DATE for two important events of relevance to the GVAS:
"New Eyes on the Universe: SKA & ngVLA Conference" @ Vancouver (Canada), 30 April - 5 May 2023
"VLBI: Life starts at 40!" meeting @ Bologna (Italy), 22-26 May 2023